US-China Tech Company Regulatory
11/14/2019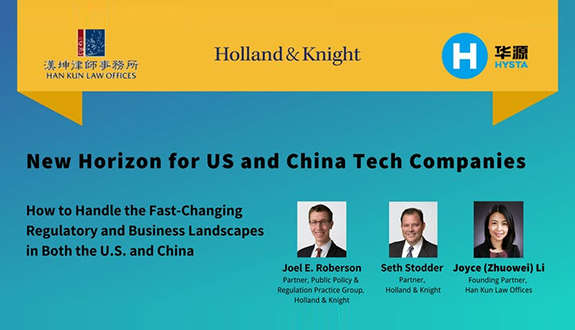 HYSTA
JJLake Business Center
Activity Introduce
Overview
The tech communities in the US and China are becoming more and more interconnected.
On the US side, the pressure on tech companies has intensified. Challenges faced by tech companies include how the new technologies such as autonomous driving and artificial intelligence should be regulated, as well as antitrust, and data protection concerns. These issues have required the use of additional legislative, regulatory and trade tools. Holland & Knight's attorneys and professionals can help you spot key issues to avoid and develop strategies that can position your company to thrive in this new legal and regulatory environment.
On the China side, recent regulatory and economic developments have affected the operation and development of Chinese tech companies, particularly with respect to private equity and venture capital financing, fund formation, mergers and acquisitions, capital markets, inbound and outbound investments, intellectual property and corporate compliance. Han Kun, a leading Chinese law firm that represents many tech companies in China, will share some of its observations on recent regulatory and economic developments that affect the operation and development of tech companies in China, as well as insights to help your company plan ahead.
Joel E. Roberson is a Washington, D.C., attorney and a member of the firm's Public Policy & Regulation Practice Group. Mr. Roberson's practice focuses on public policy development, legislative advocacy and regulatory compliance with a strong emphasis in technology policy.
Mr. Roberson advises high-tech clients on emerging public policy and regulatory issues, including self-driving cars, unmanned aircraft systems (UAS), cybersecurity, privacy and data breach response. Mr. Roberson has extensive experience working with the U.S. Department of Transportation (DOT) and the Federal Aviation Administration (FAA) to develop policy to support the integration of autonomous vehicles and drones. He is well-versed in preparing clients to testify before Congress, including congressional investigations into data breaches. Before joining Holland & Knight, Mr. Roberson served as a law clerk for the House Judiciary Committee where he prepared members of Congress to debate the first reauthorization of the Patriot Act.
Seth Stodder is a partner in the Los Angeles office of Holland & Knight LLP, and he represents clients on a wide variety of matters involving international trade, cross-border transactions, proceedings before the Committee on Foreign Investment in the United States (CFIUS), immigration and visas, cybersecurity, data privacy, and emerging technology issues, government and internal investigations, and national security. Mr. Stodder also advises contractors on dealings with the federal government and, in particular, the U.S. Department of Homeland Security (DHS). He is a frequent writer, speaker, and media commentator, and he also teaches national security law at the University of Southern California Gould School of Law.
Prior to coming to the Firm, Mr. Stodder served in the Obama Administration as Assistant Secretary of Homeland Security for Borders, Immigration & Trade, as well as Assistant Secretary of Homeland Security for Threat Prevention and Security Policy. In these interrelated roles, he served on the DHS senior leadership team and led policy development for DHS on various issues, including border security and immigration, global asylum and refugee policy, international trade and foreign investment policy, transportation security, law enforcement, counterterrorism, among many other topics. He also directly oversaw the DHS Foreign Investment Risk Management (FIRM) team, and represented DHS on the CFIUS committee. He also led the U.S. Visa Waiver Program, was co-chair of the DHS task force on the use of social media for vetting purposes, served on the DHS Climate Change Advisory Board, represented DHS on the National Security Council's Atrocities Prevention Board, represented DHS in various senior-level Interagency and White House meetings, and frequently testified before Congress. He also led DHS diplomatic engagements with myriad countries, including Cuba, Mexico, Canada, Brazil, Guatemala, Singapore, the United Kingdom, Australia, Germany, among many others around the world.
Earlier in his career, Mr. Stodder also served in DHS under President George W. Bush as Director of Policy and Planning for U.S. Customs and Border Protection (CBP), as well as counselor/senior policy advisor to U.S. Customs Commissioner Robert C. Bonner. In this position, Mr. Stodder played a central role in reinventing America's border security policies in the immediate aftermath of the 9/11 attacks, helping to develop and implement such key initiatives as the Customs-Trade Partnership Against Terrorism (C-TPAT), the Container Security Initiative (CSI), and the National Targeting Center (NTC), as well as other efforts focused on securing U.S. borders while also respecting human rights and facilitating the secure flow of lawful travel and trade across international borders and throughout the global economy.
As one of the founding partners of Han Kun Law offices, Ms. Li has been working at Han Kun since December 2004. Prior to that, she had many years of practice experience both in China and in the United States with other Chinese and international law firms.
Ms. Li provided comprehensive legal services for numerous foreign investors, including Fortune 500 multinational corporations and mid-sized private businesses, where she assisted them in setting up all types of business vehicles in China, and represented their Chinese subsidiaries and branch offices in handling all kinds of general corporate matters as well as business transactions. She represented NYSE and NASDAQ listed companies as well as offshore private companies in acquiring Chinese domestic companies and provided the full set of legal services during the process. In the private equity and venture capital financing field, Ms. Li represented venture capital funds and start-up enterprises in various types of financing projects. Ms. Li has accumulated rich experience in practicing Chinese law and handling complicated cross-border and onshore transactions. Starting from several years ago, Ms. Li has been serving as Han Kun's Co-CEO, being responsible for the daily management of the firm.
Ms. Li graduated from Shanghai Jiao Tong University with a Bachelor of Engineering Degree. Afterwards, she majored in International Economic Law at the Shanghai Institute of Foreign Trade where she received an LL.M. Degree. After practicing law in China for several years, Ms. Li earned an LL.M. Degree in Corporate Law and Business from Stanford University School of Law in 2004.
About Holland & Knight
Holland & Knight is a U.S.-based global law firm committed to provide high-quality legal services to our clients. We provide legal assistance to Chinese investors and companies doing business or making investments in the United States and Latin America. We also advise and assist multinational corporations and financial institutions, trade associations, private investors and other clients in their China-related activities.
We assist Chinese clients and multinational clients in their China-related activities in areas such as international business, mergers and acquisitions, technology, healthcare, real estate, environmental law, private equity, venture capital, financial services, taxation, intellectual property, private wealth services, data privacy and cybersecurity, labor and employment, ESOPs, regulatory and government affairs, and dispute resolutions.
About Han Kun
Han Kun is a leading full-service law firm in China. Over the years, Han Kun has been widely recognized as a leader in complex cross-border and domestic transactions.
Our main practice areas include private equity, mergers and acquisitions, international and domestic capital markets, investment funds, assets management, competition law, banking and finance, aviation finance, foreign direct investment, compliance, private client wealth management, intellectual property and dispute resolution.
We have nearly 400 professionals located in our four offices in Beijing, Shanghai, Shenzhen and Hong Kong. All our lawyers are graduates of top universities and speak at least one foreign language. Many have worked outside of China and have extensive experience in complex cross-border transactions as counsel to both Chinese and foreign clients.